Night Into Day
To see all the wonderful details up close, click on the photo twice and scroll around.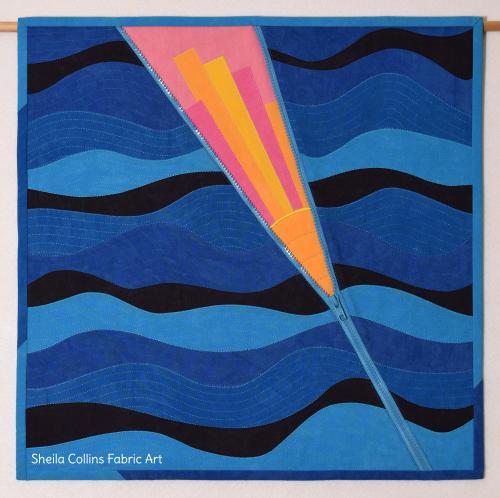 Night Into Day
20" x 20"
Night Into Day was my entry for The Van Gogh Cherrywood Challenge, 2017. It's a memorable piece for me, because it was my first time participating in a challenge, and I was thrilled to be chosen as a finalist. This piece has had the good fortune to criss-cross the globe with the exhibit.
Upon learning about this challenge I knew I wanted to participate; I had this design in mind and felt it would be a good fit. I love the implied motion of the separating zipper and how it could show the transition of Night Into Day. I also love how it adds some dimension to the piece.
If you're not familiar with Cherrywood Fabrics Challenges here's some basic information. Cherrywood hosts an art quilt contest called The Cherrywood Challenge, and a bundle of fabric is created especially for the challenge, which is available for purchase. The quilts are always 20" x 20", and 70% of the quilt must be created with the challenge fabrics. Only other Cherrywood fabrics may be used for the remaining 30% of the quilt.